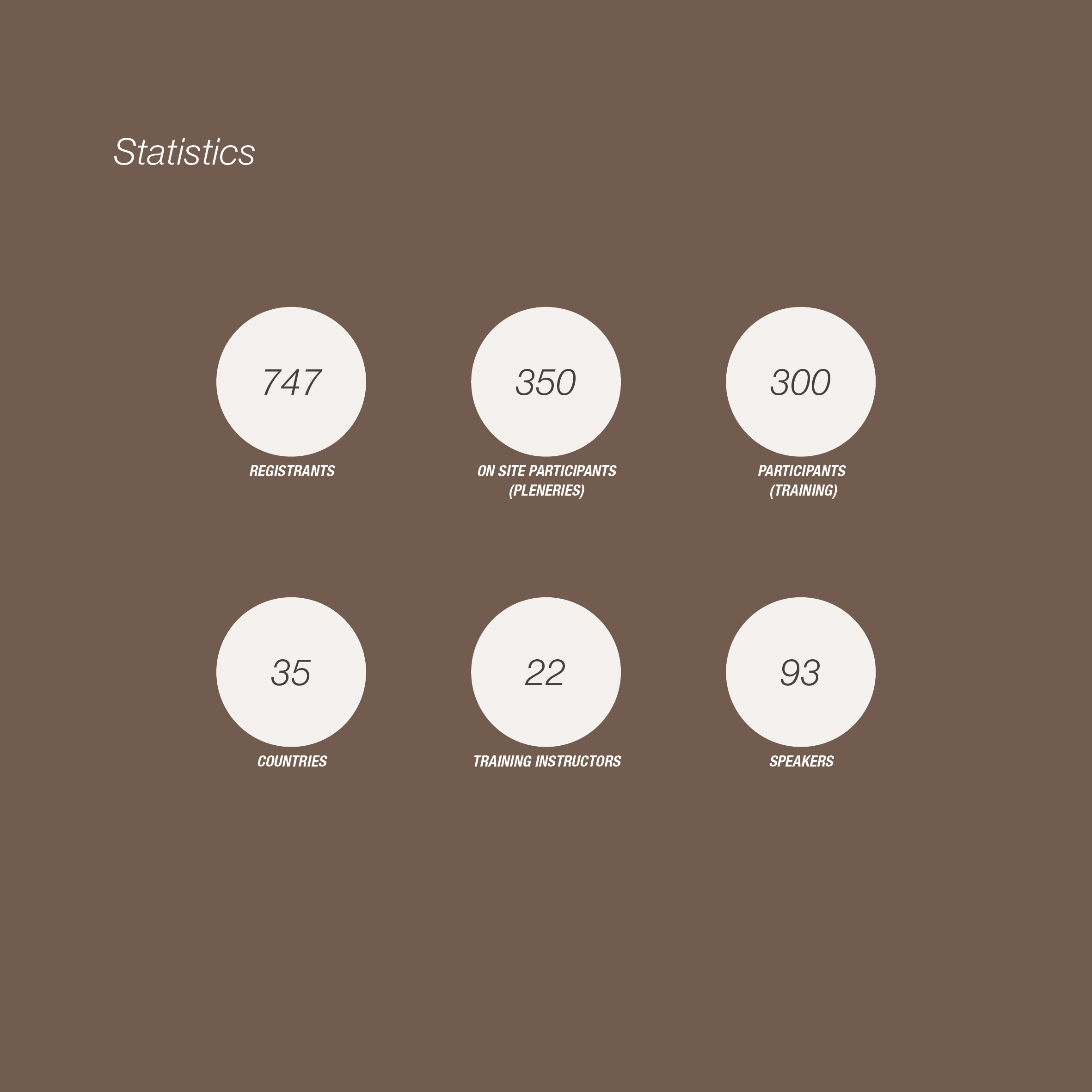 The Africa Internet Summit 2015 (AIS'15) was held from 24 May to 5 June 2015 at the Ramada Plaza Hotel and the Regency Tunis Hotel in Tunis, Tunisia. Over 300 people from 35 countries attended the training sessions and around 350 delegates attended the AIS'15 plenary sessions. The event was hosted by the ATI (Tunisian Internet Agency) and organised by AFRINIC and the AF* - the African organisations working collaboratively for a better Internet in Africa.
The AIS, an annual, regional multi-stakeholder ICT conference, is the pinnacle educational and business ICT event in Africa where key players in the Internet industry interact with the global Internet community. Launched in The Gambia in 2012, the Summit aims to bring the ICT business and technical community in Africa under one roof to discuss ICT issues and challenges.
Taking place over two weeks, the AIS'15 saw nearly 20 workshops, tutorials and training sessions conducted during the first days of the Summit. The Women in IT Forum (WITF) and the AfricaCERT Cybersecurity Day also took place during the first week. The ICANN Day, the AfNOG-16 Meeting, the AFRINIC-22 Meeting and its related plenary sessions, as well as the AFRINIC Annual General Members Meeting were held from 1- 5 June 2015.
The AIS'15 was generously sponsored by Microsoft (Conference), ICANN (Diamond), Liquid Telecommunications (Gala Dinner), Google, Internet Society, NetworkTheWorld, Telecom Italia Sparkle, Afilias (Gold), FRANCE IX Services, ZA Central Registry (ZACR), Domain Name Services (Pty) Ltd (Silver), Network Startup Resource Center - NSRC, Seacom, DotAfrica (Bronze), La Poste Tunisienne (Coffee Break), and the Tunisian Internet Agency (Connectivity).
Agenda
Date
Session

Day 1

1 June 2015

Internet Ecosystem and ICANN multistakeholder model Slide

ICANN Day

How to Become an ICANN Accredited Registrar
Update on AFRALO's Ativities Slide
New Internet and Economic Development Slide
Presentation on International Domains Names Slide
DNS Entrepreneurship Center (DNS-EC) Slide
Presentation on New GTLDs Slide
AfGWG
Africans' Participation in CCWG Slide
Africans' Participation in CWG Slide
Africans' Participation in ICG
Brief Update on the Processes
Questions and Answers
Closing Remarks
AIS'15 Opening Ceremony
Introdcution to RIPE Atlas and RIPEstat
AfREN Meeting
IPv6 For Engineers
Online Localised Content Development (OLCD) Workshop
Advanced features of RIPE Atlas and RIPEstat

Day 2

2 June 2015

AfNOG Welcome Message Slide
NOG Reports Slide

Goodwill Message from A Registry

Keynote address by Kathy Brown, CEO ISOC
TZ KSK Algorithm Rollover Slide
Online Training for Africans NOGs Slide
BCOP Slide
Impact of Cloud Computing, for decision makers Slide
Peering and Content
IETF Update Slide
AFRINIC IRR Slide
Trans-boundary issues in Cybersecurity Slide
Open Microphone

Day 3

3 June 2015

Welcome and Introduction of Sessions Slide

Review of Agenda

Introduction to the Policy Development Process Slide

Report of Recently Ratified/Implemented Policies

Summary of policies under discussion in other regions Slide

Out-Of-Region Use of AFRINIC Internet Number Resources Slide

AFRINIC Services Guidleines (AFPUB-2014-Gen-005-DRAFT-01) Slide

Resource Reservation for Internet Exchange Points Slide

Status of the Policy Manual Slide

PDWG Election

Open Microphone

Closing

Day 4

4 June 2015

Presentation on BCG Report and E-Friction Slide

The Internet and Economic Development- The Case for ICT Infrastructure Slide
CRISP Team Update Slide

AGMM Welcome and Agenda Review Slide

Approval of last AGMM minutes dated 6 June 2014 held in Djbouti Slide
Board Activity Update Slide
Activities Update
2014 Audited Report Slide
Appointment of Auditor for 2015 Slide
Presentation of 2015 budget Slide
Budget Execution Slide
Q&A
Special Resolutions (SR1, SR2, SR3). Proposal by Members on Bylaws Revision
Presntation/Debate
Vote
Counting/Announcement
Board Elections Slide
Presentation of Candidates (5 Minutes per candidate including Q&A)
Vote
Special Resolutions (SR4, SR5, SR6) Proposal by Members on Bylaws Revision Slide
Presentation/Debate
Vote
Counting/Announcement
Special Resolution (SR7, SR8) Proposal by Members on Bylaws revision Slide
Presentation/Debate
Vote
Counting/Announcement
Board Election Result
Closing Remarks and end of AGMM

Day 5

5 June 2014

Lean Design for African Start-Ups Slide
ICT and Tourism, the New Economy of Tourism Sector
Tracking Capital Budgets in Nigeria Slide
Questions and Answers
P2P Name Systems:Potential Disruptions Slide
How Mobile Internet helps Kenya to leverage Passenger Feedback to improve Road Safety Slide
Usefulness of "Design Thinking" for Young entrepreneurs in ICT Slide

Key Success Factors in Francophone Internet Ecosystem
AFRINIC Board ELections

Special Resolutions (SR4 to SR8) Slide
AFRINIC Corporate Update Slide
APNIC Slide
ARIN Slide
Lacnic Updates Slide
RIPE NCC Updates Slide
NRO Updates Slide
ASo Updates Slide
Resource Policy Manual Status Report - Ernest Byaruhanga
Stakeholders involvement and participation in the Internet governance ecosystem
IANA Updates Slide
How to foster broadband Internet development in Africa? Slide

Ecosystème de TIC au Tchad Slide
The Open Internet (Net Neutrality)

AFRINIC Member Service Update Slide
AFRINIC Training Update
End-User Measurement through paid advertisement
AFRINIC Communication Update
AFRINIC R&D Update Slide
AFRINIC IT and Engineering Update Slide
RIPE Atlas & RIPEstat
FIRE Updates
Open Microphone
Aminata Garba - Cloud Computing : Overview and Challenges